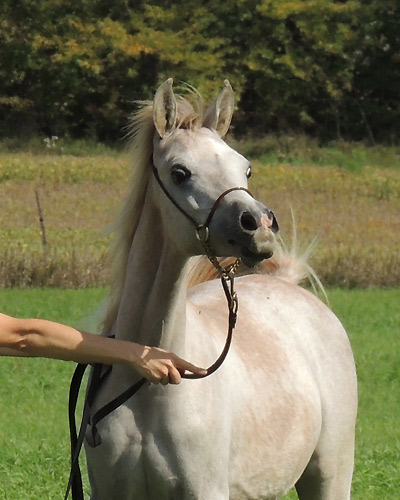 Wakil Al Badia
( DeSha Daheez x Safina Al Badia )
2014 Grey Gelding
AHR# 663861
Kuhaylan Rodan
This typey & charismatic colt inherited his dam's exceptional structure and presence, and a notable 'Sinan look' from his sire. He has an especially nice disposition, good size, and should make a good competitive sport horse or competitive trail horse.
Wakil is the first colt sired by DeSha Daheez, an outstanding young stallion bred by DeShazer Arabians of Texas, and retained as a replacement for his sire Laheeb Al Nasser. Desha Daheez is out of a Veruska bred Ansata Sinan daughter with a Dahman Shahwan dam line to Bukra. His sire Laheeb Al Nasser is considered by many to be one of the most beautiful Straight Egyptian stallions in the world today. Laheeb Al Nasser is sired by World Champion stallion Al Adeed Al Shaqab and out of World Reserve Champion mare Bint Saida Al Nasser. Laheeb Al Nasser has subsequently sired many of his own international champions. Desha Daheez's dam's sire Ansata Sinan was the 1995 Salon du Cheval Reserve World Champion. Ansata Sinan carried an ethereal quality from the start. His kind soulful expression, beautiful head, and surreal persona has gained him many admirers around the globe. DeSha Daheez has inherited a fitting combination of traits from his sire and dam, and should prove to be an exciting stallion to watch in the coming decade.
Wakil's dam Safina Al Badia is a beautiful and substantial mare with a short head, wide jowls, expressive dark eyes, and a well balanced body. Her famous sire Al Adeed Al Shaqab is a Salon du Cheval World Champion Stallion, US Egyptian Event Supreme Champion Stallion, and Qatari National Champion Stallion. Al Adeed Al Shaqab is bred and owned by the Emir of Qatar, His Highness Sheikh Hamad Bin Khalifa Al-Thani. Safina's four great granddams are the notable mares Ansata Rosetta, *Imperial Sayyah, RDM Maar Hala, and *Ramses Sadaka (bred by the EAO).
August 2014 HD Video (6 months of age)
September 2014 HD Video (7 months of age)