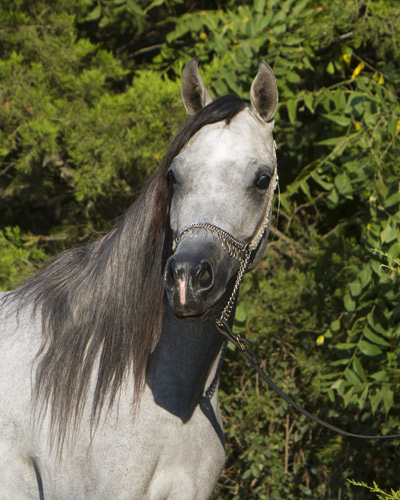 Saidat Al Badia
( Laheeb Al Nasser x Amal Al Badia )
2015 Grey Mare
AHR# 667129
Kuhaylan Rodan
Saidat Al Badia is an exceptionally typey filly with a beautiful head, small ears, and very good motion & tail carriage. She is a subtle reflection of her paternal grandmother Bint Saida Al Nasser.
Saidat Al Badia is sired by the Qatari bred stallion Laheeb Al Nasser. Laheeb Al Nasser spent a significant portion of his breeding career at DeShazer Arabians in Houston, Texas before being sold to Hanaya Stud of Switzerland. Considered by many to be one of the most beautiful Straight Egyptian stallions in the world today, Laheeb Al Nasser is sired by World Champion stallion Al Adeed Al Shaqab and out of World Reserve Champion mare Bint Saida Al Nasser.
Saidat Al Badia's dam Amal Al Badia is an animated and elegant daughter of Al Adeed Al Shaqab. Al Adeed Al Shaqab is a Salon du Cheval World Champion Stallion, US Egyptian Event Supreme Champion Stallion, and Qatari National Champion Stallion. This unparalleled stallion is owned by the Emir of Qatar, His Highness Sheikh Hamad Bin Khalifa Al-Thani.
May 2015 video (1 month of age) with dam Amal Al Badia
August 2017 Video (Vimeo - HD)
August 2017 Video (YouTube - HD)