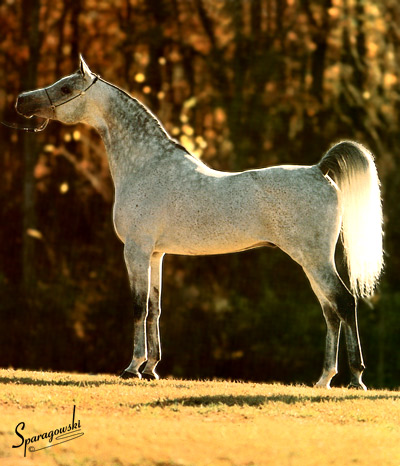 Prince Ibn Shaikh
( Shaikh Al Badi x RDM Maar Hala )
1981 Grey Stallion
AHR# 235134
Kuhaylan Jellabi
Prince Ibn Shaikh was sired by one of the most influential straight Egyptian stallions of the 20th century, Shaikh Al Badi, and out of the very significant broodmare RDM Maar Hala. RDM Maar Hala proved capable of repeatedly producing world class stallions, including Halim El Mansour and El Halimaar by *Ansata Ibn Halima. RDM Maar Hala's maternal great granddam *Maaroufa has been documented as being the most successful of all the mares Henry Babson imported in 1932. Prince Ibn Shaikh was a very successful show horse at a time when the Arabian horse industry was extremely competitive, during the early 1980's. Prince Ibn Shaikh had a shapely high set neck, large eyes, a short back, a beautiful head, excellent legs, and a good straight tail carried high.

Prince Ibn Shaikh's first foal, Ramses Beshara, won the 1987 Filly Fantasia along with $75,000. The following year, his daughter Ramses Camelia won the 1988 Filly Fantasia and $76,000. Gene Reichart, who showed both fillies to their wins, described him in 1989 as follows: "Prince Ibn Shaikh is a very contemporary, typey, well-balanced, athletic horse and a tremendous sire... His foals have long croups, good depth to their bodies, and exceptionally straight legs, high withers and beautiful heads."

Prince Ibn Shaikh was given a great opportunity to prove his abilities as a sire, having bred many of the Ramses Herd's best *Ramses Fayek daughters, and the sons and daughters that resulted from that cross, along with many other successful get, enabled Prince Ibn Shaikh to become a true world class sire.
1984 Egyptian Event Supreme Champion Stallion
1984 Canadian National Champion Futurity Stallion
1984 US National Top Ten Futurity Stallion
PRINCE IBN SHAIKH
AHR*235134
Grey 1981

SHAIKH AL BADI
AHR*54456
Grey 1969
*MORAFIC
AHR*32261
Grey 1956
NAZEER
RAS*247 Grey 1934
MABROUKA
EAO*12 Chestnut 1951
*BINT MAISA EL SAGHIRA++
AHR*23220
Bay 1958
NAZEER
RAS*247 Grey 1934
MAISA
EAO*213 Grey 1948
RDM MAAR HALA
AHR*92867
Grey 1973
EL HILAL
AHR*35261
Grey 1966
*ANSATA IBN HALIMA++
AHR*15897 Grey 1958
*BINT NEFISAA
AHR*23223 Grey 1959
MAAR JUMANA
AHR*21293
Bay 1962
DISAAN
AHR*5121 Chestnut 1948
MAAR-REE
AHR*12720 Grey 1957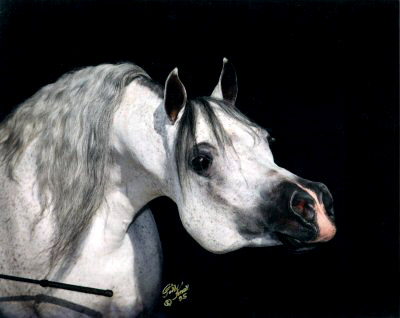 (Some information above was taken from the February 1989 Pyramid Report, article by Linda White.)