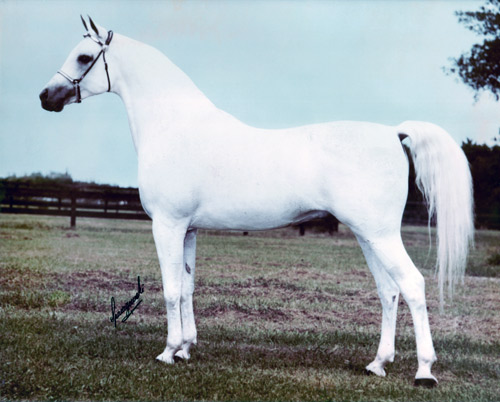 Ansata El Naseri
( Ansata Ibn Sudan x Ansata Bint Bukra )
1969 Grey Stallion
AHR*56303
Dahman Shahwan
True to his Dahman Shahwan strain, Ansata El Naseri was a typey and extremey well balanced individual. He embodied the fine physical qualities of both his sire and dam, along with a kind and gentle disposition.
Ansata El Naseri proved to be an exceptional broodmare sire, and many of his daughters went on to reproduce the excellent qualities they inherited from their sire. Ansata El Naseri's sons and daughters competed successfully in halter, endurance, racing, and performance. His get and grandget have influenced Straight Egyptian breeding programs around the world in a positive way.
Ansata El Naseri - Desert Heritage Magazine, n.22 / 2011
ANSATA EL NASERI AHR*56303
Grey 1969

ANSATA IBN SUDAN
AHR*32342
Grey 1965
*ANSATA IBN HALIMA++
AHR*15897
Grey 1958
NAZEER
RAS*247 Grey 1934
HALIMA
RAS*420 Bay 1944
*ANSATA BINT MABROUKA
AHR*15898
Grey 1958
NAZEER
RAS*247 Grey 1934
MABROUKA
EAO*12 Chestnut 1951
*ANSATA BINT BUKRA
AHR*33487
Grey 1959
NAZEER
RAS*247
Grey 1934
MANSOUR
RAS*111 Grey 1921
BINT SAMIHA
RAS*133 Bay 1925
BUKRA
RAS*384
Grey 1942
SHAHLOUL
RAS*193 Grey 1931
BINT SABAH
RAS*135 Bay 1925