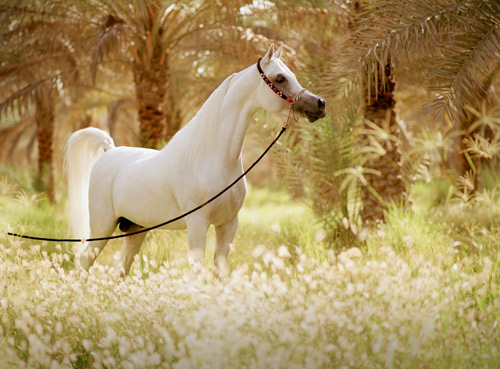 Al Adeed Al Shaqab
( Ansata Halim Shah x Sundar Alisayyah )
1995 Grey Stallion
QASB# 1045 / AHR# 611774
Hadban Enzahi
When looking at Al Adeed Al Shaqab as a breeding stallion, you can only ask yourself "Where does one go from here?" He is subtle perfection; harmonious balance and sublime beauty.
Al Adeed Al Shaqab was bred by Al Shaqab Stud of Doha Qatar, owned by the Emir of Qatar, His Highness Sheikh Hamad Bin Khalifa Al-Thani. Al Adeed Al Shaqab was the last recorded son of the very significant Ansata stallion Ansata Halim Shah. His dam is by the US Reserve National Champion Stallion Ruminaja Ali, and descends in tail female line to Dr. Sayed Marei's Albadeia Stud of Egypt.
1997 Qatar International Champion Colt
1999 Middle East Champion Stallion, Jordan
2000 Qatar International Champion Stallion
2001 Qatar International Champion Stallion
2002 Qatar International Champion Stallion
2002 All Nations Cup Champion Stallion, Germany
2003 Qatar International Champion Stallion
2003 World Champion Stallion, France
2005 Egyptian Event Champion Stallion, USA
2008 Qatar International Champion Stallion
AL ADEED AL SHAQAB
AHR*611774
Grey 1995

ANSATA HALIM SHAH
QASB*835
Grey 1980
*ANSATA IBN
HALIMA++
AHR*15897
Grey 1958
NAZEER
RAS*247 Grey 1934
HALIMA
RAS*420 Bay 1944
ANSATA ROSETTA
AHR*70167
Grey 1971
ANSATA SHAH ZAMAN
AHR*47967 Grey 1968
*ANSATA BINT BUKRA
AHR*33487 Grey 1959
SUNDAR ALISAYYAH
QASB*1043
Grey 1987
RUMINAJA ALI
AHR*134937
Grey 1976
SHAIKH AL BADI
AHR*54456 Grey 1969
BINT MAGIDAA
AHR*62907 Grey 1970
*IMPERIAL SAYYAH
AHR*123258
Grey 1975
KAYED
EAO*630 Grey 1966
*MALEKAT EL GAMAL
AHR*120682 Grey 1968