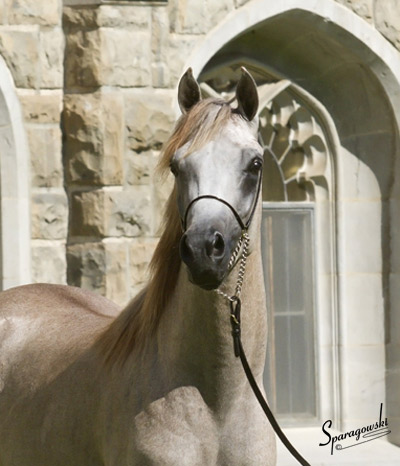 Namir Al Nazarra
( Ansata Sinan x BSA Nazarra )
2008 Grey Stallion
AHR# 641853
Hadban Enzahi
Sold 2011 exp. Europe
Namir Al Nazarra is a notably tall and elegant son of one of the most sought after straight Egyptian sires of the last two decades, Ansata Sinan. Namir's dam BSA Nazarra is a tall imposing daughter of Nabiel, the leading Egyptian sire of the 1980's and one of only ten stallions in the history of the breed to sire more than 100 champions. BSA Nazarra is out of Fazarra, a full sister to Richter MH's dam Fasarra, both sired by *Farazdac and out of *Masarra. Namir descends from the Yosreia tail female line, known as the dam line of excellent straight Egyptian sires.
Namir Al Nazarra stands over 15-1 hands. He has large dark eyes set in prominent sockets, a long neck with a clean throatlatch, small tight ears, a fine tapered muzzle, and an excellent temperament. Namir is a good mover, with a well set tail carried straight from behind.
Namir has two full sisters; one owned by El Farida Stud of Egypt, and the other exported to Bahrain. Namir is the youngest sibling and only colt produced from this elite cross.
LFS Negative ( Cornell University )
CA Negative ( UC Davis )
May 2010 Video (19 months of age)
May 2011 Photo Gallery

On Location at St. Benedict's Abbey - Tutto Arabi November 2011, with Namir Al Nazarra
NAMIR AL NAZARRA
AHR*641853
Grey 2008

ANSATA SINAN
AHR*482308
Grey 1992
PRINCE FA MONIET
AHR*239446
Grey 1981
THEEGYPTIANPRINCE
AHR*45351 Grey 1967
FA MONIET
AHR*42922 Grey 1967
ANSATA NEFARA
AHR*410754
Grey 1988
ANSATA HALIM SHAH
AHR*219546 Grey 1980
ANSATA SUDARRA
AHR*259990 Grey 1982
BSA NAZARRA
AHR*434549
Grey 1989
NABIEL+/
AHR*72106
Grey 1971
*SAKR+++
AHR*50732 Grey 1968
*MAGIDAA
AHR*56075 Chestnut 1964
FAZARRA
AHR*173148
Chestnut 1978
*FARAZDAC
AHR*114298 Grey 1966
*MASARRA
AHR*100685 Chestnut 1972