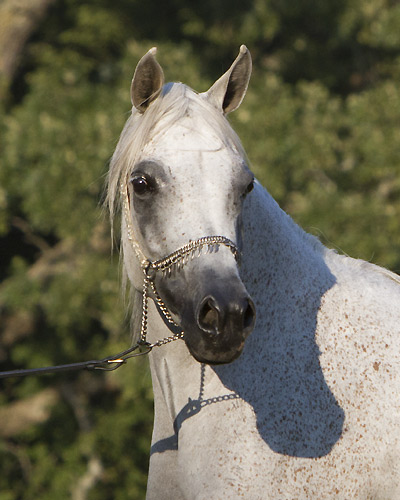 Hala Al Badia
( Kamal Ibn Adeed x Hanaa Al Badia )
2012 Grey Mare
AHR# 657762
Saqlawi
Hala Al Badia is an exceptionally refined and typey grey mare, and the first filly sired by Kamal Ibn Adeed, an upcoming young stallion who has been a consistent winner in the American show ring.
Hala Al Badia's dam Hanaa Al Badia is perhaps the only Al Adeed Al Shaqab daughter bred outside of the Middle East with a dam line to Inshass of Egypt's Saqlawiah mare Anzar. The Al Adeed Al Shaqab / Anzar cross has been a good one, producing two extremely successful young show mares for Al Shaqab Stud of Qatar; Nouf Al Shaqab and Laian Al Shaqab. Remarks Joe Ferriss, respected historian and writer, "This line from Anzar originates in the Royal Inshass Stud, the result of a gift from King Ibn Saud of the Kingdom of Saudi Arabia to King Farouk of Egypt, as a consequence of diplomatic visits to improve relations between the two countries. The gift was the fine grey mare Hind of the Saqlawi strain, the granddam of Anzar. Horses of this line are often very fine skinned and dry with a special elegance and beautiful facial expression."

August 2017 Video (Vimeo - HD)

August 2017 Video (YouTube - HD)