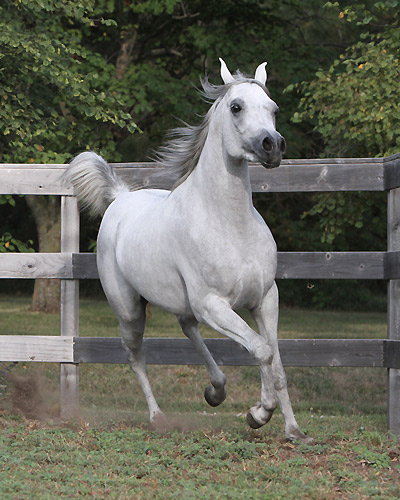 Faras Al Badia
( Ansata Sheikh Halim x Safina Al Badia )
2015 Grey Stallion
AHR# 667091
Kuhaylan Rodan
Faras Al Badia is a typey colt with notably large dark eyes, a high set well shaped neck, beautiful tail carriage, and a charismastic way of moving.
Faras Al Badia is sired by Ansata Sheikh Halim, a principle herdsire for Bait Al Arab, the state stud of Kuwait. Ansata Sheikh Halim is in turn a finespun reflection of his famous Egyptian Arabian sire Ansata Hejazi, and out of the classic Dahman Shahwaniyah mare Ansata Samiha, tail female to Ansata Bint Bukra through Ansata Delilah, granddam of Ansata Hejazi. Thus, Ansata Sheikh Halim is pure in the strain Dahman Shahwan, with both sire and dam being out of Ansata Delilah daughters. Ansata Sheikh Halim's concentrated and structured pedigree matches his phenotype; well balanced with exceptional tail carriage, an upright beautifully shaped neck, notably small ears, and prominant expressive eyes. Additonally, he inherited the good disposition of his sire & dam.
Faras Al Badia's dam Safina Al Badia is a beautiful and substantial mare with a short head, wide jowls, expressive dark eyes, and a well balanced body. Her famous sire Al Adeed Al Shaqab is a Salon du Cheval World Champion Stallion, US Egyptian Event Supreme Champion Stallion, and Qatari National Champion Stallion. Al Adeed Al Shaqab is bred and owned by the Emir of Qatar, His Highness Sheikh Hamad Bin Khalifa Al-Thani.
August 2017 Video (2 years of age) - Vimeo
August 2017 Video (2 years of age) - YouTube
June 2015 Video (6 weeks of age)
Aug 2015 Video ( 3 1/2 months of age)