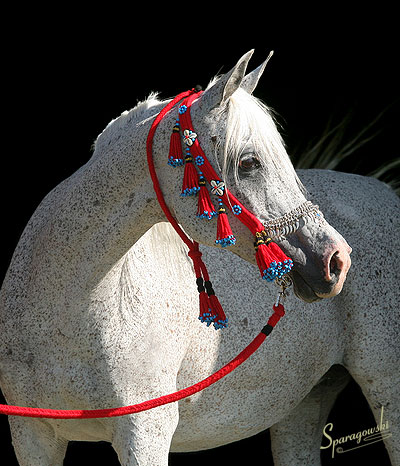 Shadenn
( Shaikh Al Badi x El Sharie )
1988 Grey Mare
AHR# 407369
Saqlawi
(1988-2014)
Shadenn's pedigree is a reflection of many notable breeders of the late 20th century. Her sire is the Glennloch-bred stallion Shaikh Al Badi, sire of numerous outstanding get, and her dam El Sharie was bred by Willis and Jimmie's Flick's Glenglade Arabian Horse Farm. El Sharie's pedigree is a combination of Ansata breeding on the sire side, and Albadeia Stud of Egypt's breeding on the dam side.
Shadenn has been an excellent producing mare, well into old age. She comes from a long dam line of very good producing mares, both in quality of offspring and numbers of foals. Her dam line descends from the Inshass Stud of Egypt, from a Saqlawi mare who was gifted to ex-King Farouk by King Saoud.
Shadenn has excellent legs and feet, a prominent jibbah and nice dish, large eyes, high straight tail carriage, and wonderful motion. She stands 15 hands tall. Shadenn is a good-natured, animated mare.
SHADENN
AHR*407369
Grey 1988

SHAIKH AL BADI
AHR*54456
Grey 1969
*MORAFIC
AHR*32261
Grey 1956
NAZEER
RAS*247 Grey 1934
MABROUKA
EAO*12 Chestnut 1951
*BINT MAISA EL SAGHIRA++
AHR*23220
Bay 1958
NAZEER
RAS*247 Grey 1934
MAISA
EAO*213 Grey 1948
EL SHARIE
AHR*184765
Grey 1979
ANSATA EL NASERI
AHR*56303
Grey 1969
ANSATA IBN SUDAN
AHR*32342 Grey 1965
*ANSATA BINT BUKRA
AHR*33487 Grey 1959
*SHARARA
AHR*124557
Grey 1974
KAYED
ABSB*22 Grey 1966
ANZAR
ABSB*30 Bay 1963
progeny
name
year / color / sex
sire
MB Solomon
AHR# 538850
1996 Grey Stallion
Imperial Madheen
EAI Jalladen
CAHR# 39644
1998 Grey Mare
Royal Jalliel
Annisa
CAHR# 39637
1999 Bay Mare
EAI Dhark Tamaar
GR Scarlet Rose
AHR# 581009
2000 Bay Mare
BKA Raayah

DSA Bint Shadenn
AHR# 635228

2004 Bay Mare
Shahir IASB
(unnamed)
(deceased)
2005 Grey Stallion
Thee Gambler

Hanaa Al Badia
AHR# 637155

2008 Grey Mare
Al Adeed Al Shaqab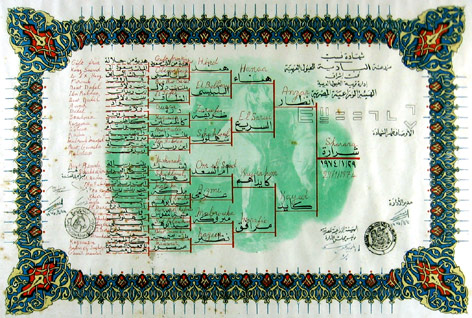 click image to enlarge
Above is the original EAO / ABSB ( Albadeia Stud Book - Egypt ) pedigree for Shadenn's maternal granddam *Sharara. *Sharara was purchased from Dr. Sayed Marei's Albadeia Stud by Willis P. Flick / Glenglade Arabians, and imported into the United States in 1975.
Pedigree courtesy of the Willis P. Flick archives.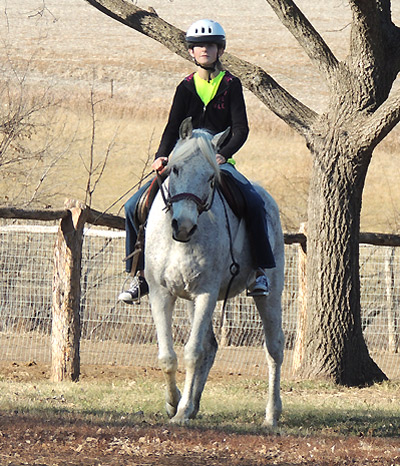 Shadenn age 25