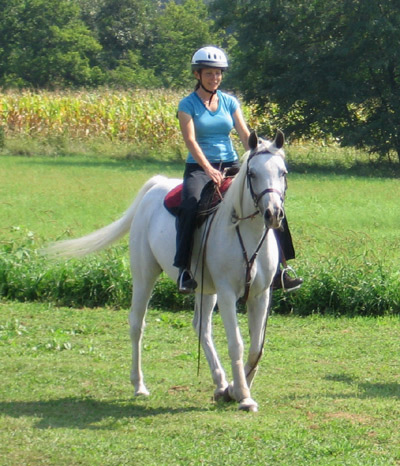 SA Alaa Sashay
( Ali Zaar x Ramses Effendi )
2000 Grey Mare
AHR# 582556
Kuhaylan Rodan
SA Alaa Sashay exemplifies the classic Arabian horse with her balance, substance, and type. She is a short coupled mare with a high set elegant neck, a kind temperament, straight tail carriage, and excellent legs. She is talented under saddle, and an especially enjoyable riding horse.
Sashay is sired by the Ruminaja Ali son Ali Zaar, who was out of Glorieta Zaafira, a full sister to Glorieta Zaarina. Both Glorieta Zaafira and Glorieta Zaarina were results of the very successful cross of Ansata Abu Nazeer on *Gamila daughters. Ali Zaar was a full brother in blood to the extraordinarily beautiful mare Bint Zaarina, a National Top Ten mare in both the US and Canada, as well as an Egyptian Event Reserve Senior Champion Mare. Ali Zaar was exported to Germany in 2004, but died before producing offspring in Germany. Ali Zaar produced approximately 50 straight Egyptian horses in the US before his untimely death.
Sashay's dam Ramses Effendi is a treasured daughter of Prince Ibn Shaikh, the beautiful RDM Maar Hala son by Shaikh Al Badi, bred by Dr. Felino Cruz. Effendi is in turn out of the Plum Grove mare Ramses Safina, out of *Ramses Sadaka. *Ramses Sadaka was bred by the EAO, and imported by Martin Loeber's Plum Grove Farm where she established a notable dam line.
2009 Egyptian Event Top Five World Class Mares 8 - 9 Years, with David Botha
SA ALAA SASHAY
AHR*582556
Grey 2000

ALI ZAAR
AHR*435739
Grey 1989
RUMINAJA ALI
AHR*134937
Grey 1976
SHAIKH AL BADI
AHR*54456 Grey 1969
BINT MAGIDAA
AHR*62907 Grey 1970
GLORIETA ZAAFIRA
AHR*208348
Bay 1980
ANSATA ABU NAZEER
AHR*105814 Grey 1974
ANCHOR HILL HAMLA
AHR*36530 Grey 1966
RAMSES EFFENDI
AHR*443046
Grey 1989
PRINCE IBN SHAIKH
AHR*235134
Grey 1981
SHAIKH AL BADI
AHR*54456 Grey 1969
RDM MAAR HALA
AHR*92867 Grey 1973
RAMSES SAFINA
AHR*207980
Grey 1980
*RAMSES FAYEK
AHR*69592 Grey 1958
*RAMSES SADAKA
AHR*157487 Grey 1974